Date of birth- '5 march 1997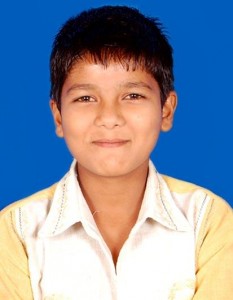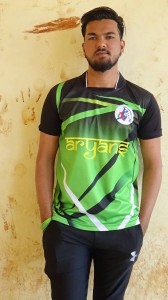 He is in second year of his graduation.He is Pursuing a degree in Commerce field.  In past he was very shy, but now he isn't shy at all. He still likes playing cricket; he is playing in a team.

Aditya is a very much a shy boy when you first meet with him. When you start to spend time with him after that he will slowly open a little bit. He is studying in standard seventh. He is clever in studies. He likes to play puzzles,cricket etc. Many times you will identify that he feels lonely and he wants to be alone. Somewhere in his heart he misses the love, care and lovely hug of his mother. His ambition is to become cricketor In food he likes chinice biriyani and dal rice He still did not open up wholely.
Aditya's mother commited "suicide" when he was six years old. Aditya was shocked of watching the sudden death of his mom, As a result of this, his father started to drink liquer & died two years back. His relatives did not take care of him nor they supported him with his elder sister & two elder brothers.
In his family he has two brother and one sister he is the yonger one they were staying with grand mother they don't have any income source to survive. We know this family since last 10 years we saw need in his family by there request for the time we placed him in hostel too.
We like to give him the Love, care, security just like parents. Now Aditya is a insecure young boy & he needs a full support in both physically & financially.

May 2011
Hi, I am Aditya.
Recently our exams were finished. We had many subjects  such as mathematics, science, social sciences, English , Hindi , Marathi, M.C.C., environmental studies, personality development & drawing .My favorite subject  is Marathi.
I don't have parents. My mother committed suicide I don't remember this situation but my brother told me all those things. It happened when I was three years old. I have a grandmother and I meet her whenever I get holidays.
Our day goes like this:
We wake at 7 o'clock in morning. Then we brush our teeth and have breakfast.  Then we do praise and worship and thank God for showing us a beautiful day. Then we study and after that we take bath. We leave  for school  at 11 am. After returning from school we have a cup of tea and then again thank God for protecting us the whole day. Then we complete homework which was given in the school .We have dinner at 8 pm. Then we watch T.V. from 8pm  to 9pm. Now our day is over and we go to bed. On Thursday we have free time without home work, at evening we have time Rufas Bhaiya. He comes and takes us out in the garden were we play football or cricket and some time we play in side game in hostel.
Our hostel is important for me as it gives a platform to make our dreams true. We learned many new & good things from it. I get love and care here that is very important for me because in small age I lost my parents
I came t know God here, my grandmother also believes in Jesus I am very happy to be in the hostel
***
Dec 2010: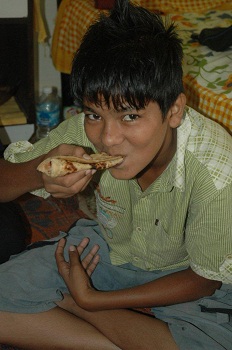 "I am Aditya, I am studying in 8th standard, I got excellent marks in our first semester exams. I miss you very much. Our class teacher Kedar sir is a good teacher. I like Christmas very much because we have a lot of fun that day. Babu sir brings new clothes for us. Our teacher makes various types of sweet dish and we like to eat that very much. We get gifts from our church and we also have dance and play in the church as well as in our hostel. In food I like Chinese, chicken biryani and dal-rice. I would like to become a computer engineer in future because I like computer. My favourite colours are yellow and orange. My favourite game is cricket. My hobby is reading books. I would like to become an ideal student. My best friend is Atul. In future I would like to help our hostel. I'll never forget the things that you have done for us.
Wish you a happy Christmas and a happy new year.
Thank you."
***
13 jun 2010: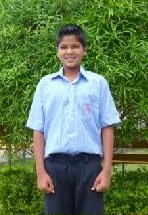 "Hi, I am studying well in my school. I got good marks and I have passed in my exams.
I am studying hard so that in future I can achieve my goal. I clean the all our stuff and sort out all books what we don't need I sold it and with that money we did party in the home .
We have painted our room and decorated it with crafts work and we have drawn a big tree in our rooms and wrote about ourselves on it
If you want to see what we deed please have a look in the picture."