Date of birth-8 nov1995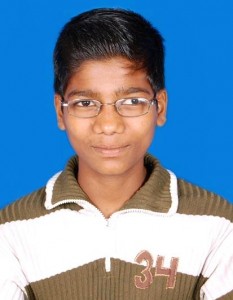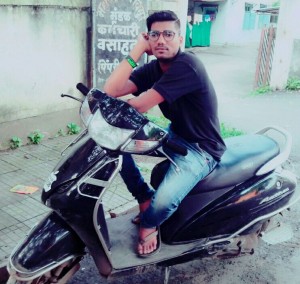 Nikhil likes to go sightseeing in the surrounding. Together with his brother Rohan he is doing a college study administration. They live now together with their grandmother in a small room.  It is not the best situation but he is happy that he can study in this way. He is going to college six days a week from 10.30 a.m. till 5.30 p.m.. Those many hours and the lots of homework that has to be done make it difficult for him to have a daily job for some hours. In college he is doing the subjects: Marathi, English, Account, Economics, Management and secretary. Marathi is his favourite subject.
In future, when Babu will be retired, he would like to continue the hostel.

Nikhil is bold when you meet with him.And he opens up easily with you when you spend time with him. He is very much creative. He is studying in standard eighth. He is clever in studies. He likes to play Cricket very much. Likes to admire things around him and he is very much curious to know about anything. His ambition is to become doctor.  In food he likes chinese,  biryani and dal rice.
Nikhil's mother commited "suicide" when he was eight years old. As a result of this, his father started to drink liquer & died some years back.His relatives did not take care of him nor they supported him with his elder sister & brother and a young brother.

April 2018
Hello Guys,
I have completed my graduation and working with a local company. I am trying to support my brothers and sister as they are the only ones that I have. I also have one family that I am blessed with is my hostel family. Whatever I am today is because of the hardwork and the guidance of bird's nest. They took care of me, provided me with the best education and guided me to a bright future. I daily pray and ask our God to bless them with all the things they need.
Thank you
************************************************************************************************************************************
May 2011
Hi, I am Nikhil.
Recently our exams were finished. We had many subjects  such as mathematics, science, social sciences, English , Hindi , Marathi, M.C.C., environmental studies, personality development & drawing. My favorite subject is science. I and my brother Rohan are in same class.
I don't have parents. My mom committed suicide because of some personal problems. When all this happened I was too small to understand that what happened. From that time my dad was taking care of all four of us but soon he also died.
I have a grandmother and we meet her whenever we get holidays. But now she is also not feeling well. She is diabetic and she can't see properly she is sitting in one place all the time.  I go to visit her with Babu sir when she is not feeling well. She likes that very much
Our day goes like this:
We wake at 7 o'clock in morning. Then we brush our teeth and have breakfast.  Then we do praise and worship and thank God for showing us a beautiful day. Then we study and after that we take bath. We leave for school at 11 am. After returning from school we have a cup of tea and then again thank God for protecting us the whole day. Then we complete homework which was given in the school .We have dinner at 8 pm. Then we watch T.V. from 8pm to 9pm. Now our day is over and we go to bed.
I am very thankful to all of them who are associated to our hostel. It helped me to complete my basic education and constructed a base for my future. It did not only help to me but also to my brothers Rohan and Aditya and also to my family in many ways. I'll pray to God that he gives all the blessings & prosperity to each & everyone who is helping to our hostel.
***
Dec 2010: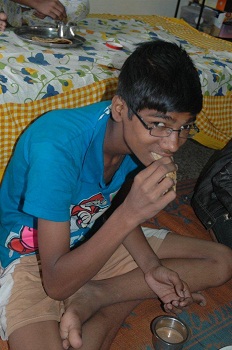 "I am Nikhil. I am studying in 9th standard. Our first semester got over and I got good marks in all the subjects. I am very exited to go to next class in June, than I have to study very hard to get good marks. I like Marathi as a subject. I would like to become police in future. My favourite dishes are chicken and Chinese.
In festivals I like Christmas very much, in this time we get change to go out and share about Jesus and sing the carrel songs in our area.  I like to sing very much and we get gifts in our church. We also get new clothes. We also have Christmas party in our hostel. My favourite colours are green and pink. I like to play cricket and hide and seek.
In future I will help my hostel so many children can come to stay and they will get good change to study like I got and live good life like me. I like to say thanks to everyone who makes this possible for me. Wish you a very happy Christmas and a happy new year.
Thank you."
***
13 jun 2010: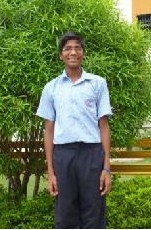 "I am doing good. I have passed in my examinations with good marks. And next year I have to studies more because nine and tenth class is very imported for us in India
We have painted our room and decorated it with crafts work and we have drawn a big tree in our rooms and wrote about ourselves on it.
In these vacations I just played cricket and many other indoor games."