Date of birth-22 sep 1997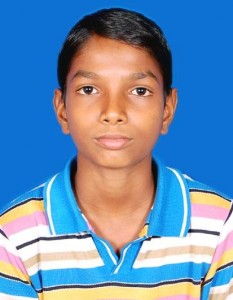 Rohit is nowadays doing very well in school. In the 10th standard he is even the best student of his class. Rohit is a very well behaved boy, hij doesn't talk a lot, only what is necessary. Every day he is reading the newspaper, he prefers a day without food above a day without newspaper.
He still has problems with his arm that was broken some years ago and did not properly heal. He doesn't want to visit hospital for this problem but in our opinion it is good to do this at the end of the school year.

Rohit is a bold boy and likes to mix with people around him.
He is studying in standard seventh. He is very clever in studies. He likes to play cricket and loves to do craft work. His ambition is to become a doctor. In food he likes dal rice, biryani, chinese
In Rohit's family he has two elder sisters and a young brother. His father died by drinking alcohol.
Now no one is there to take care of those children and his mother do not have job. Because she is not educated so she don't know much.
One day she asked help to Babu so that he can  arrange hostel for him because she can not have enough money to take care all children like this Rohit come in our family.

May 2011
Hi, I am Rohit,                                                                                                    Recently our exams were finished and we are ready to enjoy our vacation. We had many subjects such as mathematics, science, social sciences, English, Hindi, Marathi & drawing. My favorite subject is English.
I have a mother but my dad is expired. He was an alcoholic and died because of alcohol. In that time I was seven years old my mother knew Babu sir's sister, she lived next to our house,  in this way I came into the hostel. My mother comes to meet me some times.
Our day goes like this:
We wake at 7 o'clock in morning. Then we brush our teeth and have breakfast.  Then we do praise and worship and thank God for showing us a beautiful day. Then we study and after that we take bath. We leave  for school  at 11 am. After returning from school we have a cup of tea and then again thank God for protecting us the whole day. Then we complete homework which was given in the school .We have dinner at 8 pm. Then we watch T.V. from 8pm  to 9pm. Now our day is over and we go to bed.
The hostel is important for me because I can complete my dream here because I love to study and become good citizen of India and I feel safe here. I will help hostel as much as possible when I will finish my study.
***
Dec 2010: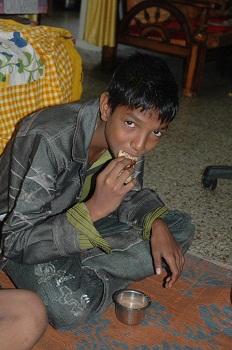 "I am Rohit, I am studying in 8th standard. Our first semester got over and I got good marks in my exam.
I like chicken biryani very much, we get it on some special occasions. Our teacher is a good cook and I like food cooked by her very much. I like Christmas as we get new clothes by our sir. Various types of delicious sweets are prepared by our teacher and we decorate our hostel together. At that time choir people go outside and spread gods word and sing various songs. In our church various program such as dance, play and party are organized. I like to watch tv very much, I also like to watch cricket matches. I read newspaper daily. I would like to become a doctor in future. When I will leave the hostel I will try to help our hostel as much as I can. I will never forget the things that are done by our hostel.
Wish you a happy Christmas and a happy new year.
Thank you."
***
13 jun 2010: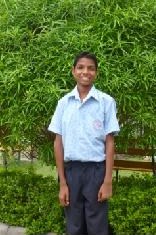 "Hi I got 69% in my exams but I am not happy for that means I have to more study to reach till 100% I want to study more and chance off living I know only study can chance the life
I want to study and get good job so I can help the babu sir to take more children so they can get chance to chance there life like I got
I am handicap my one hand is not strong that's why I can not doo many things like cricket and other game but I like to play football and I did many time in the evening I use to go out to play in the garden."