Date of birth-10 feb 1998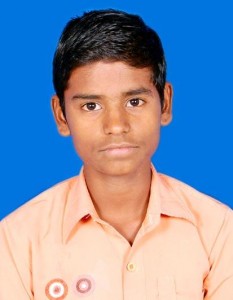 Shubham changed a lot, look at an old picture and compare this with the new one. He is attending now the 9th standard of the Marathi school. Not Marathi is his favourite subject but he prefers Hindi. When he is free he likes cricket, playing himself as well as watching other people playing this game. In future he likes to become an engineer.

Shubham is a very mischievious boy he want attention thats why he is doing things so people can give him attention. He is a little bit shy when you meet with him. When you spend time with him he will open up very easily. He is ok in studies.
He is studying in standard sixth. He likes to play cricket. He Loves to do craft work. Likes to crack  jokes & laughs with himself. His ambition is to become doctor.
In food he likes chinese.
In his family he has two sister and one brother he don't have a father his father died when he was one year old  his mother working as maid in peoples home they don't  have much money to stay alive thats why four years ago his mother asked us to take care of him we don't have any other option to keep him so he is also living in our hostel.

May 2011
Hi I am Shubham.
Recently our exams were finished and we are ready to enjoy our vacation. We had many subjects such as mathematics, science, social sciences, English, Hindi, Marathi & drawing. My favorite subject is mathematics.
I have a mother but my dad is expired. He was an alcoholic and died because of  alcohol. That time I was seven years old. In that time I came to Birds Nest Society. I would also like to tell all the people not to drink in any situation. When ever we get holidays I am very happy to meet my mom and to spend some time with my mother.
Our day goes like this:
We wake at 7 o'clock in morning. Then we brush our teeth and have breakfast.  Then we do praise and worship and thank God for showing us a beautiful day. Then we study and after that we take bath. We leave  for school  at 11 am. After returning from school we have a cup of tea and then again thank God for protecting us the whole day. Then we complete homework which was given in the school .We have dinner at 8 pm. Then we watch T.V. from 8pm  to 9pm. Now our day is over and we go to bed.
The hostel is important for me because I came to Jesus here. When I was at home I started to take glue but after I was in hostel I stop taking glue. If I was not in hostel I don't know where I would be now.
I thank for God and Babu sir for this
I will help hostel as much as possible when I will finish my study.
***
Dec 2010: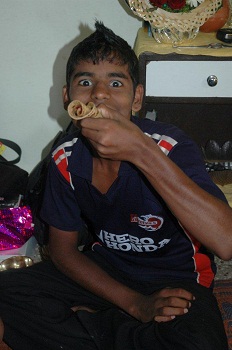 "I am Shubham, I am studying in 7th standard. Recently our first semester got over and I got good marks in my exams. My favourite colour is red. My favourite game is cricket. I like my school very much and in my school I do lots of naughty things. My favourite festival is Christmas as we enjoy a lot that day. My favourite subject is history. I would like to become a teacher. I like chicken biryani. My hobby is reading books.
Wish  you a happy Christmas and a happy new year.
Thank you."
***
13 jun 2010: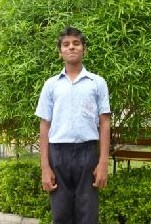 "hello I am ok in study I passed in the exams I did not got high marks but I am happy what I got I don't like to do craft and painting much so I did not paint the our room I like to work in the kitchen so most off my time I spend in kitchen to help the teachers and cleaning
I am thinking I will study to 10th and do same technical course let see what babu sir will decide
I like to play cricket so all afternoon I was going out to play cricket and in the evening to play foot ball in the garden."