Date of birth 29 apr 1994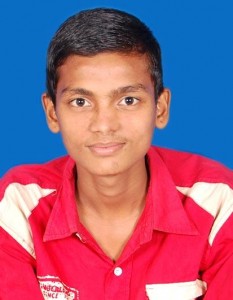 The biggest hobby from Rohan is playing cricket. He would like to become member of a cricket club but this is too expensive.
Together with his brother Nikhil he is doing a college study administration. They live now together with their grandmother in a small room.  It is not the best situation but he is happy that he can study in this way. He is going to college six days a week from 10.30 a.m. till 5.30 p.m.. Those many hours and the lots of homework that has to be done make it difficult for him to have a daily job for some hours. In college he is doing the subjects: Marathi, English, Account, Economics, Management and secretary. Marathi is his favourite subject.
In future Rohan would like to become a policeman or a teacher.

Rohan is quiet & shy when you first meet him. He usually sits alone when there are a lot of people around. When you spend time with him then he slowly opens up. Currently he is studying in standard eight. He is clever in studies and likes to play cricket. Now he is no longer a shy boy. Rohan's ambition is to become a cricketer after finishing his studies. In food he likes biryani and chinese.
Rohan's mother commited "suicide" when he was nine years old. As a result of this, his father started to drink liquer & died some years back. His relatives did not take care of him.Now he is alone with his two brothers and a sister.
When Rohan was going through this critical situation, Babu gave him a place in a hostel with his sister & two young brothers. Now he lives in the BN hostel.

April 2018
Hello ,
I am Rohan. I have completed my graduation and I am headed towards completing my post-graduation in commerce field. My dream is to be teacher and I am focused towards my goal. All this I have achieved is because of the dedication and hardwork of my hostel  family. After I become teacher I will also help my hostel family with education part.Please keep us in your prayers.
Thank You.
**********************************************************************************************************************************
May 2011
Hi, I am Rohan
Recently our exams were finished. We had many subjects such as Mathematics, science, social sciences, English , Hindi , Marathi, M.C.C., environmental studies, personality development & drawing. My favorite subject is Hindi. I don't have long holiday this year because I will go in higher class I have to study more this year.
I don't have parents. My mom committed suicide because of some personal problems. When all this happened I was too small to understand that what happened. From then my dad was taking care of all four of us. After some years my dad was also expired due to a disease. Now when I remember all this I feel extremely sad and I pray to God that all my brothers in this world will not undergo a situation like this.
I have a grandmother and we meet her whenever we get holidays. But nowadays she is also not feeling well. I request all of you to pray for her.
Sometimes I feel that God sends Babu sir and his family for us. He is loving and caring and also strict sometimes.
Our day goes like this:
We wake at 7 o'clock in morning. Then we brush our teeth and have breakfast.  Then we do praise and worship and thank God for showing us a beautiful day. Then we study and after that we take bath. We leave for school at 11 am. After returning from school we have a cup of tea and then again thank God for protecting us the whole day. Then we complete homework which was given in the school .We have dinner at 8 pm. Then we watch T.V. from 8pm to 9pm. Now our day is over and we go to bed.
Our hostel is important for all of us as it gave a platform to make our dreams true. We learned many new & good things from it. When I will become successful in my life I will also help the children who don't have parents. It doesn't mean that when I'll be successful then only if I wouldn't then also I will try at my level best.
***
Dec 2010: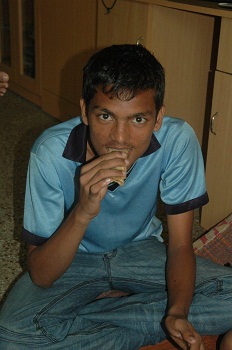 "I am Rohan and I am in 9th standard. My favourite subjects are history and Marathi. I like my school very much. I future I would like to become a teacher because I like to spread the knowledge to others. I will work hard to get this dream true. Recently our first semester got over and I got excellent marks also.  In food I like chicken biryani very much as well as other sweet dishes. I like Christmas as this day Jesus Christ came to the world for us. We go out and share this with our prayer group. We also enjoy a lot because we have many programs in our church as well as in our hostel. My favourite game is cricket. My favourite colour is red. In future I would like become an ideal student. Our sir and teacher care for us very much. Our teacher is a good cook and our sir helps me in my studies. If I will become successful in my life or not I will be very happy to help our hostel in one or another way.
In hostel I got love and care like from my parents who I lost many years back. I am very grateful to my sir.
Wish you a happy Christmas and a happy new year.
Thank you."
***
13 jun 2010: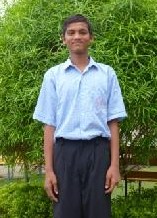 "I am studying well in the school. I have passed with very good percentage in my exam .I got second highest rank in my class. I am planning to study more and I have to like join extra classes for my higher studies and I would like to become Police.
I have painted our room and decorated it with crafts work and we also did write scripture verse on the walls of our rooms.
In the vacations I have joined MS-CIT Course classes. Its a computer course."